Gems of The Mediterranean
Gems of The Mediterranean
Join us for 12 glorious days on Oceania Cruise line's Riviera.
August 2 – August 14, 2019
Prices
From only $2,999** (Cruise only)
Dates
August 2 – August 14, 2019
Details
Relax on board the luxurious Riviera and savor cuisine renowned as the finest at sea, rivaling even Michelin-starred restaurants ashore. Inspired by Master Chef Jacques Pépin, these culinary delights have always been a hallmark that distinguishes the Oceania Cruises experience from any other. Considering the uncompromising quality, perhaps the most remarkable aspect of an Oceania Cruises voyage is its incredible value. Lavish complimentary amenities abound, and there are never supplemental charges in any of the onboard restaurants. Value packages ensure that sipping a glass of vintage wine, surfing the Internet or enjoying a shore excursion is both convenient and affordable.
A VOYAGE FIT FOR ROYALTY | You will be treated like royalty as you explore the gems of the Mediterranean from the islands of Spain to the French Riviera to the storied shores of Italy.
Visit Ibiza's contemporary art museum and archaeological museum and then enjoy an evening stroll along the waterfront promenade
Take a scenic drive to Aix-en-Provence, where you'll learn the secrets to the cuisine of Provence from a Michelin-starred chef
With two full days in Tuscany, visit the galleries and palaces of Florence on one day and the famous Leaning Tower of Pisa the next
From Taormina, explore the charming villages of Sicily at length, including locations featured in Francis Ford Coppola's epic series, The Godfather
Itinerary
A = Anchor Port
DAY
PORT
ARRIVE
DEPART
Aug 2 Fri
Barcelona, Spain
Embark 1 PM
7 PM
Aug 3 Sat
Ibiza, Spain
8 AM
11 PM
Aug 4 Sun
Palma de Mallorca, Spain
7 AM
4 PM
Aug 5 Mon
Provence (Marseille), France
9 AM
9 PM
Aug 6 Tue
Saint-Tropez, France  A
8 AM
11 PM
Aug 7 Wed
Monte Carlo, Monaco A
8 AM
11 PM
Aug 8 Thu
Portofino, Italy A
8 AM
7 PM
Aug 9 Fri
Florence/Pisa/Tuscany (Livorno), Italy
8 AM
Aug 10 Sat
Florence/Pisa/Tuscany (Livorno), Italy
8 PM
Aug 11 Sun
Cruising the Mediterranean Sea
Aug 12 Mon
Taormina (Sicily), Italy A
8 AM
6 PM
Aug 13 Tue
Sorrento/Capri, Italy A
8 AM
6 PM
Aug 14 Wed
Rome (Civitavecchia), Italy
Disembark 8 AM
Voyage Map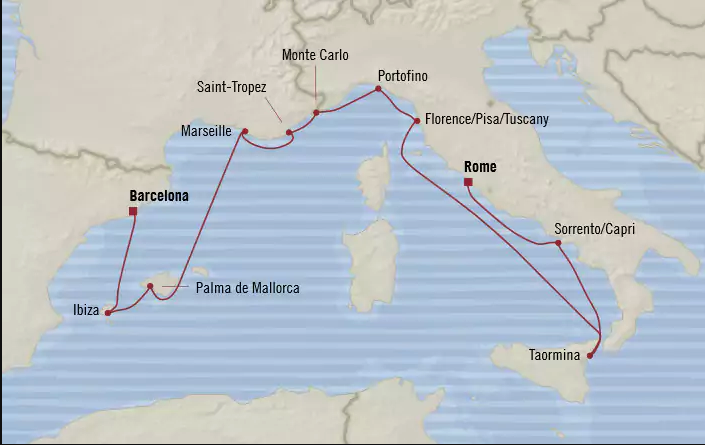 Price Details
Special Offer
With OLife Choice*, our limited-time inclusive package, enjoy Roundtrip Airfare*plus choose one:
FREE – 6 Shore Excursions per cabin
FREE – Beverage Package
FREE – $600 Shipboard Credit per cabin
EXCLUSIVE GROUP PERK PRE PAID GRATUITIES VALUED AT $350 per cabin!!
Book Before
Pricing with the O life choice starts at $4299* including airfare from most major air gateways and all taxes and govt fees.
Cruise only pricing starts at $2999*
| | | |
| --- | --- | --- |
| |  Cruise with Free air and O life Choice* | Cruise Only* |
| Interior cabins from | $4299 | $2999 |
| Ocean View Cabins  from | $5299 | $3999 |
| Balcony Cabins from | $6299 | $4999 |
All prices are per person based on double occupancy
Book By December 31, 2018,  $750 pp person deposit will hold your space. Deposit is refundable until April 2, 2019
Reservations
For reservations and more information call Lauren (ext. 107) or Craig (ext. 103) at Cruisin' & Main Line Vacations
(610) 341-1979 or (800) 506-7447
Disclaimer
Disclaimer of Liability: In the absence of its own negligence, Cruisin' Inc., and Millersville University, its agents, offices and/or suppliers of services shall not be responsible for any cancellations, delays, diversions or substitution of equipment or any act or omission whatsoever by sea or air or land carriers, hotels, cruise lines, transportation companies, restaurants, tour operators, excursion operators, automobile rental agencies, or any other persons providing any services or accommodations to passengers, including without limitations, any results thereof, such as changes in services or accommodations. Cruisin' Inc., its agents, offices and/or suppliers of services pursuant to or in connection with any itineraries act only as agents for the passenger solely and exclusively for the purpose of making arrangements for hotels, transportation, tours, excursions, restaurants, automobile rentals, or any other service, and does not assume any liability whatsoever for any personal injury, property damage, death, loss accident of delay to person or property due to an act or omission of any sea, air or land carrier, hotel, cruise line, restaurant, automobile rental agency, company or person rendering any of the services included in the tour, or by act of God. Further, no responsibilities are accepted to damage or delay due to sickness, pilferage, labor disputes, machinery breakdown, quarantine, government restraints, political unrest, war, riots, rebellion, insurrection, weather or other causes beyond their personal control. No responsibility is accepted for any additional expense, omissions, delays, re-routing, or acts of government or authority. This agreement shall be construed in accordance with and governed by the State of Pennsylvania. In the event any matter of disagreement shall arise in connection with the agreement, the sole and exclusive venue for such litigation instituted by either party shall be laid in the Court of Common Pleas, Country of Delaware, State of Pennsylvania.